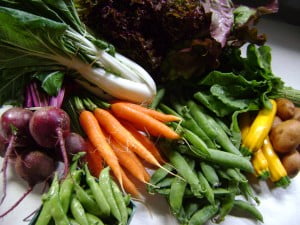 Go Directly to Application
What is a CSA?
A CSA is a farm share program. Members of a Community Supported Agriculture program invest in a local farm by paying at the beginning of the growing season, then picking up a box of locally grown, seasonal veggies every week from June through October. This initial consumer investment helps farmers pay for those expenses that are necessary to begin the growing season before crops are ready for harvest. Bialas Farms also offers a Winter CSA that runs from October through January.
Why should I join a CSA?
CSA programs are a great way for you to discover new products and introduce your children to a very special way of eating. We grow an extensive variety of veggies including heirlooms, many of which you won't find in other retail markets. You'll find products last far longer when they are farm fresh and they really do taste better! When you join a farm share program, you are devoting 100% of your food dollars to the farm. There are no middlemen between you and the farmer. You are helping to keep our land productive and open and free from development.
We are committed to providing our members with a unique food experience from seed to supper, and what could be better than sampling heirloom tomatoes, still warm from the summer sun or nibbling fresh-popped homegrown popcorn at pick-up? Our members are our priority and items in limited supply are always offered to them first. For example, 2017 was a great year for fruit and members were treated to strawberries, peaches, grapes, cantaloupe and watermelon as part of their share. 2016 blessed us with an abundance of broccoli, cauliflower and leafy greens. Farmer Sonny's carrots are beyond compare, and last summer's sweet corn was as good as it gets.

What do I get with my Farm Share?
We grow everything we put in our shares. Depending on the season, we include about 10 – 13 different items in each share box, with an emphasis on variety and themed food pairing. All members receive The FarmGirl Cooks e-newsletter prior to pick-up. Each newsletter includes a list of items they can expect that week, plus recipes and ideas for using, storing and preserving vegetables so nothing goes to waste. If we have an abundance of certain items, you may be offered a box of corn for freezing, a case of tomatoes for canning, or cucumbers for pickling, and oftentimes, our members are able to purchase 'bonus' or limited quantity items at a discounted price.
Bialas Farms Farm Stand is open to the public and coincides with CSA distributions. You are always welcome to supplement your "Grab 'n' Go" share with additional items from our market tables. We feature several artisan and homegrown/home-produced items at our Market at the Farm as well. You may find Janet's Quality Baked Goods, LunaGrown's Jam, Freedom Hill Farms yogurt, kefir and raw milk cheeses, Cedar Hill Botanicals, and Corbett's Cookie Bars available for purchase on select market days throughout the season or by special order. You, the consumer, are an integral part of growing a food community and we are pleased to bring you together.

How much produce will I get in a share box?
We have a few different options from which to choose. Large shares will generously feed a family of 3-4 and small shares will feed 1-2 people, but it depends on your family. Many of our members are singles or smaller families who 'split' their farm share with friends. A split share is a great way to get acquainted with the CSA concept, plus, our farm stand is open during CSA pick-up hours so you may purchase items that you would like to round out your weekly menu.
We are offering a half-season option in addition to our standard large or small shares.  The Half Season Option is only a 10-week commitment and members may choose early or late season shares. Our members who prefer the convenience of summer pick-ups can choose to begin their membership in June and finish up mid-August. For those who want to experience the best of both summer and fall produce, our late season share runs from the end of August through October. The Biweekly Share Option allows you to pick up a large share every other week.

Where do I pick up my Farm Share?
At the Farm: The Barn at Bialas Farms, 75 Celery Ave New Hampton, NY Print application here or pay online. Group pick-up options are available. We encourage "Buying Clubs". Contact Kasha directly at farmer@bialasfarms.com with questions and specific requirements.
At Orange Regional Medical Center: Your shares will be delivered directly to you every Thursday afternoon. Employees only, please. Print application here or pay online.

I'm not sure I want a box of veggies that someone else picked out for me. Can I still join your CSA?
YES! Our Free Choice CSA Declining Balance Share is the perfect way for you to support our farm while still getting the produce you want in the quantities you need. You will receive $265 in veggie credits for your one-time payment of $250. Your credits can be used at the farm stand and special events for our entire growing season. Going away for 3 weeks? No problem! Having a summer bash and need lots of farm goodies? You can use your cards for that! You will also receive The FarmGirl's e-newsletter every week. Declining Balance cards are a terrific value and may be used until 12/31/18.
Does farm-fresh food REALLY taste better?

It sure does! We harvest our crops when they are ripe and ready and full of flavor. We harvest for our customers, not for shipping long distances, so we can pick the veggies that are perfect right now and you'll get them within a day or two. All of the products in your farm share are sourced directly from our fields. Not only do they taste better, but our veggies will last longer, too! Farm shares offer an excellent value.
Kids and adults alike can truly tell the difference between Farmer Sonny's veggies and those from the supermarket. You will be amazed by the wonderful dishes you can create with your farm share, and if you happen upon something you are unsure of, The FarmGirl will help you with recipes and serving ideas. Your fellow CSA members are also valuable resources and are always willing to share their own tips for using up their weekly box.
Can I visit the farm?
Of course! In addition to our Markets at the Farm, we host events throughout the year when you can come out for organized tours of the grounds and our operation. Farming is our sole business so we're always picking, washing and packing veggies for the farm stand, CSA shares and other orders. You may be lucky enough to catch us picking beans or corn or cucumbers, and we always need taste-testers. If we don't have something on hand, you may be given the chance to pick it yourself.
Is your farm organic?
We employ a multitude of organic farming methods on our 79 year old, 55-acre Black Dirt farm. Our growing practices are sustainable and responsible, but Bialas Farms is not a certified organic farm.
We generally use plant medicines and soil nutrients that are approved for organic use. Our main goal is creating a healthy growing environment and correcting any problems that arise with the least invasive and least costly solution. Healthy soil grows healthy, great-tasting vegetables, and we take pride in knowing that our methods produce food that we happily feed our families.
The Bialas family has been farming the same land since 1939 and our mission is to sustain the farm that has sustained us for 4 generations. You can trust that your food is being grown by a family that believes in nurturing the land and reaping the benefits of careful planning and growing practices.