The FarmGirl Cooks' E-Newsletter is just one of the things that makes Bialas Farms' CSA unique. The newsletter is chock full of recipes and tips that members can use to make the most of their farm share. It also includes a list of what will be included in that week's farm share box. Members receive this email every week of the CSA season.
It's The FarmGirl's goal to teach members to use and preserve the farm-fresh vegetables and fruits provided so there is very little food or time wasted. We want you to truly see the value in eating like a farmer. Below is an example of The FarmGirl Cooks' CSA E-Newsletter from June 21, 2016. While every growing season is different in terms of product availability, we aim to include an ample variety of vegetables along with interesting recipes so it never gets boring. Please enjoy!
---
Living the Good Life – The FarmGirl Cooks recipe newsletter
Share Includes:
*Bunched Carrots     *Bok Choy     *Broccoli OR Zucchini     *Potatoes – you choose!
*Fresh Shallots     *Shell Peas     *Sugar Snap Peas     *Choice of Fresh Herb
*Large Shares Add: Spinach     *Bonus: Garlic Scapes
We hope you enjoyed your first share box this season. I have to admit, I was giddy as I was preparing them last week. We've been devouring peas and carrots around here like there's no tomorrow. It feels so good, doesn't it? The eating part, of course, but also the part of a CSA that appeals to your conscience.
You may have chosen to join our CSA because you know it's a good value. You have probably realized that the quality of what you get from Bialas Farms is superior to store-bought anything and part of that is because of storage. We have the luxury (or maybe it's our duty?) of harvesting vegetables at their prime. We wash them when appropriate, and store them properly IMMEDIATELY. Because we store the vast majority of our produce in one of our coolers – 2 different rooms, each with a unique temperature setting for the types of veggies stored inside – the products don't suffer from exposure to the environment  like they do in supermarkets and road-side stands. It shouldn't surprise you that most vegetables are over 90% water by volume. It stands to reason, then, that when items with a high water content are sitting out in the air and wind and heat, they get a little dehydrated.
I know the feeling… and I'm sure you do, too. If you ever leave your share box in the car for a wee bit longer than anticipated and the greens are wilty, simply soak them in a nice sinkful of cool water. You can even trim the ends of things like broccoli or chard to help them absorb more moisture (channeling Mr. Hatfield and 9th grade science). Once soaked, give them a good shake, wrap in a few paper towels, then put them in a plastic bag in the fridge. I know, plastic is probably the last thing you'd expect a 'steward of the land' to promote, but it IS the best thing to help combat the effects of the uber-drying environment in your refrigerator.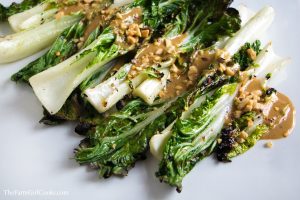 Bok Choy. It scares the heck out of people and I'm not sure why. You're getting it this week and I beg of you, please try a nibble of the white stem RAW. Awesome. Seriously, it's one of my favorite barn munchies. I also have a deep love for peanut sauce, and spicy is better IMO. This peanut sauce I've created is a breeze to whip up in a blender (or Mason jar and immersion blender) and is fantastic on baked or fried tofu, grilled zucchini, broccoli fried rice, raw carrots, or even just eaten off a spoon. This recipe pairs it with grilled bok choy. Give it a shot!
Have you heard me wax poetic about the pride I feel in feeding my family homegrown [insert whatever] for a year or more? I know… I inherited that gene from Farmer Sonny: tell a story to someone then repeat it numerous times until people smile politely, nod, then walk away. Well, here we go again. Potatoes. Homegrown assorted varieties of Black Dirt potatoes. We are still using last year's spuds and boy, do they taste great! Potatoes get sweeter the longer they're stored. Our personal favorite is the carola, sliced thinly and tossed with some sliced shallot, olive oil, salt and pepper. I toss this into a disposable (recycle!) foil pan, cover it with foil, then put on the grill when I turn it on to preheat. I'll stir the taters once or twice, and 30 – 40 minutes later, depending on my meat or veggie choice, we've got a full meal all created without inside heat production! You can go over-the-top and add a generous sprinkling of sharp cheddar and some green shallot/scallions during the last 5 minutes of cooking.
I'm a little clairvoyant (Are there degrees of clairvoyance? Hmmm?), and it was made obvious to me yet again when I sat down at the PC to compose this email today. Farmer Sonny and I decided it would be a good idea to clean the zucchini plants of all their fruit so the next 'flush' of squash will be more attractive. The plants have been under stress since they were planted because, well, no rain will do that to something that is over 90% water! So, the ends of many of the zucchini are a little pinched and funny looking. I can tell you with absolute certainty that they are still incredibly delicious despite their flaws. There is nothing like homegrown zucchini, and I use it frequently as a quickie dinner side. Sliced thinly with a mandolin or vegetable peeler, I pile it in a bowl or on a platter, drizzle it with my favorite olive oil then sprinkle with coarse salt and ground pepper. Sometimes I put some arugula microgreens on top, or even some tarragon or basil.
So the clairvoyance… I had decided that zucchini OR broccoli would be in your shares because we have a little bit of each to offer up, but not enough for everyone. That's why you get to choose. Anyway, I popped on Facebook to find Smitten Kitchen posted this recipe for Herbed Summer Squash and Potato Torte. AFTER I had determined that you'd be getting squash, potatoes, green shallots, and thyme!
I wish I could do that with lottery numbers.
See ya soon,
Kasha